For National ASL Day: Teach Your Co-Workers 10 ASL Words
Posted by: Staff Writer on April 15, 2014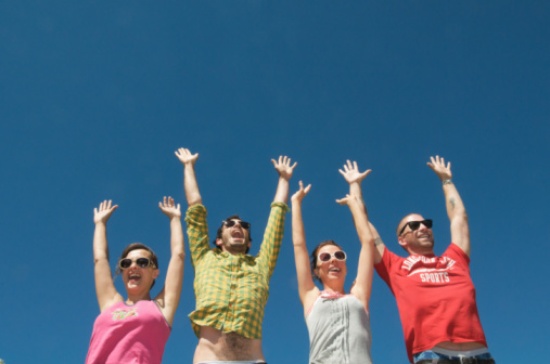 For most Americans, today marks the last chance to meet Uncle Sam's tax deadline. Tonight, we either celebrate our refunds (or commiserate a lack thereof) with a stiff drink.
But if you're among the millions in this country who use American Sign Language to communicate, today means another thing: Inaugural National ASL Day. This holiday is so new that even NationalDayCalendar.com doesn't know it yet.
FUN FACT: It shares the April 15 spotlight with National Take a Wild Guess Day, National Rubber Eraser Day, and National Glazed Spiral Ham Day.
We'll let you take a wild guess as to how erasers and pork products become national (even if "unofficial") days, when a bona fide language like ASL is still struggling for White House recognition.
So without further adieu, we're stoked to spread the word about National ASL Day. Today will be a community-founded day of observance, falling on April 15th since that was the day the first school for the deaf opened in 1817.
"Modern ASL was born when those students intermixed Native American Signs, French Sign Language, Martha's Vineyard Sign Language, and home signs," read a press release explaining the new holiday. "We want to honor our roots and continue passing down ASL to future generations!"
Among its 10 suggested ways to celebrate National ASL Day, are making ASL-related artwork, photographing your favorite ASL hand shape, and telling your children how you learned ASL.
Our favorite is Tip #8: "Teach your co-workers 10 ASL words."
Some of us work in deaf-owned, deaf-operated enterprises (like deafREVIEW!). But the vast majority of deaf and hard of hearing workers, are employed by – and work with – hearing people. It's often an uneasy alliance; you feel left out of the water cooler gossip and pray that no last-minute meetings come up leaving you in a terp-less lurch.
At least 10 percent of the population has some degree of hearing loss. The least every workplace could do is brush up on at least 10 ASL words. Many hearing people are naturally curious about sign language. Today, don your #deaffriendly tee and indulge in their desire to learn!
Here are a few examples – you can share online ASL dictionaries like LifePrint.com and SigningSavvy.com with your co-workers.
Healthcare: PATIENT, DOCTOR, PAPERWORK, NURSE, BILLING, INSURANCE, PAIN, MEDICINE, DIAGNOSIS, FILE
Graphic Design: COMPUTER, DEADLINE, COLOR, FILE, EMAIL, CLIENT, APPROVAL, FILE, IMAGE, DESIGN
Social Work: INCOME, SSN, APPOINTMENT, MEETING, PAPERWORK, SUPPORT, BOSS, CLIENT, COUNSELOR, INDIVIDUAL PLAN
Education: TEACHER, STUDENT, CLASSROOM, HOMEWORK, FRIEND, GRADES, EXAM, DUE, STUDY, PARENT
… and so on.
You'd be surprised how far you and your coworkers could go in a conversation that incorporates 10 key ASL signs (other than the usual "thank you" and fingerspelled names) that are relevant to your occupation. It's a real confidence- and camaraderie- booster on both sides!
Are you a business owner? Invite deaf and hard of hearing community members to try your product
Anyone who's running a business of any sort knows that it's important to get consumer feedback, reach out to other niches, and run a promotion once in a while.
If you could get the rubber-stamped approval from up to 10 percent of the population, wouldn't that boost your bottom line considerably? Because face-to-face interaction makes more of an impact than email threads, get connected with members of the deaf and hard of hearing community.
Maybe you own or manage a local ride-sharing service and would like to see which demographics are lacking in your ridership. Consider hosting a feedback group to find out how to make your service less intimidating and more accessible to the deaf (who, by and large, tend to cluster in dense metro cities).
On the product side, this would be a terrific opportunity to walk in the shoes of the differently-abled. Run an audit to make sure your e-commerce site's order page is deaf and deaf-blind friendly, if your singing-toy product excludes deaf children, and so on.
Whatever you decide to do, don't be shy today: Email your images, videos, or anecdotes to celebrate@aslday.com for sharing on the National ASL Day Facebook and Twitter pages and don't forget to hashtag #ASLDAY
If nothing else, you could post a V-log signing about your love of rubber erasers. We promise we won't judge – we'll hold our No. 2 pencils high and celebrate right along with you.
Tags
Comment Policy
We're aware that issues facing the Deaf, Deaf-Blind, and Hard of Hearing Community can become quite passionate and divided. What can we say, we're a group of passionate people! While we fully support a community full of passion, we also require that comments are respectful. We think negative attitudes and disrespect are a waste of everyone's time and energy. This doesn't mean you can't disagree with people, you just need to do it respectfully. We reserve the right to delete or edit any comments we feel are judgmental, rude, or of attacking nature.
Reviews by Advocates & Champions