Crystal Roberts: Content and Caffeine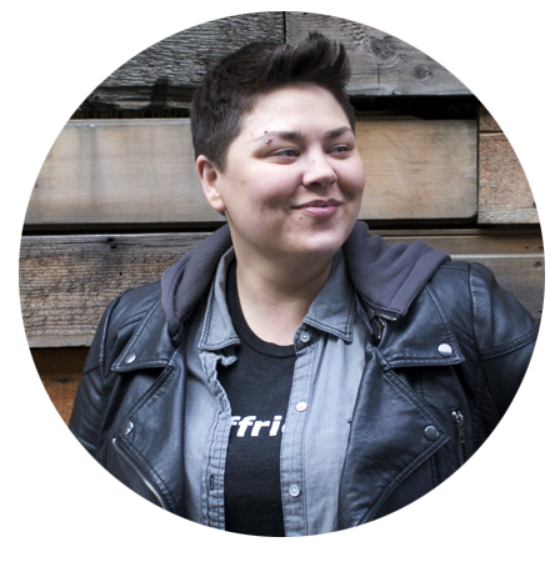 Crystal was born and raised in the Pacific Northwest, surrounded by the mountains and water. You'll find her reading articles, writing poetry, or spending time near the many waterways and beaches of the Puget Sound. She's our editor at deaffriendly.com and responsible for much of our written content on our website. A wordsmith, she produces articles and consumes coffee with equal speed and fervor, and we're happy to keep her supplied in both.
Number of Reviews: 16
Favorite Deaf-Friendly Business: Vivace, Seattle
Tell us, what's the best thing about working with the deaffriendly.com team.
I love the stimulation of working in a fast-paced environment where things are constantly changing and working with dynamic, passionate, fun folks who excel at what they do. It's inspiring. I'm lucky to be surrounded by talented Deaf peers who are at the top of their game. It pushes me to do my best.
What's your favorite deaf-friendly business you frequent. Why?
I've got to throw down with Vivace's Espresso on Roy Street. I love being able to go in, order my coffee in ASL- I've always had such positive experiences there as a Deaf consumer. And it's legitimately the best coffee in town, which is saying a lot. I'm a fan.
Describe your job and your favorite project you've worked on at deaffriendly.com
I plan our editorial content for our website and social media, and then write the content or assign it out. One of my favorite projects was planning our April anniversary month content and seeing the projects come to fruition.
Describe the most memorable review you've read written by another reviewer.
I was stoked to read about the positive, deaf-friendly experiences at Rachel's Ginger Beer by a staff member at deaffriendly.com. I'd heard great things about the restaurant when it first opened from hearing peers but hadn't gone to check it out myself until I read that particular four star review on our website. It's now one of my favorite hangouts and it is so gratifying to see other people discover RGB too and reaffirm that they continue to give great deaf-friendly customer service. That's one of the great things about deaffriendly.com for me, learning from other Deaf consumers what's a hit and what isn't worth checking out, so I can spend my dollars accordingly.
In your opinion, what's the most deaf-friendly city you've visited?
Seattle takes top honors for me, but D.C. is a close second. It's great to be able to go to so many businesses in both cities who hire Deaf employees and/or staff who sign, and who treat Deaf folks just like anyone else. Makes my experiences as a consumer much more rewarding.
Best survival tip for navigating the world as a Deaf consumer:
Be flexible but don't lower your standards, you deserve the best.
Mad lib style, just for laughs: Give me a noun. An adjective. and an adverb.
EVERGREEN, CAFFEINATED, ATTENTIVELY

A deaf-friendly EVERGREEN always knows to use CAFFEINATED communication when interacting ATTENTIVELY with Deaf customers.
Do you have advice for a new reviewer?
Consider writing reviews for more than just restaurants- review your clinic or hospital, your child's school, the corner pharmacy, big chains as well as small, locally-owned businesses.
Comment Policy
We're aware that issues facing the Deaf, Deaf-Blind, and Hard of Hearing Community can become quite passionate and divided. What can we say, we're a group of passionate people! While we fully support a community full of passion, we also require that comments are respectful. We think negative attitudes and disrespect are a waste of everyone's time and energy. This doesn't mean you can't disagree with people, you just need to do it respectfully. We reserve the right to delete or edit any comments we feel are judgmental, rude, or of attacking nature.