10 Tips for Hiring (Qualified) Sign Language Interpreters
Posted by: Staff Writer on Jan. 14, 2014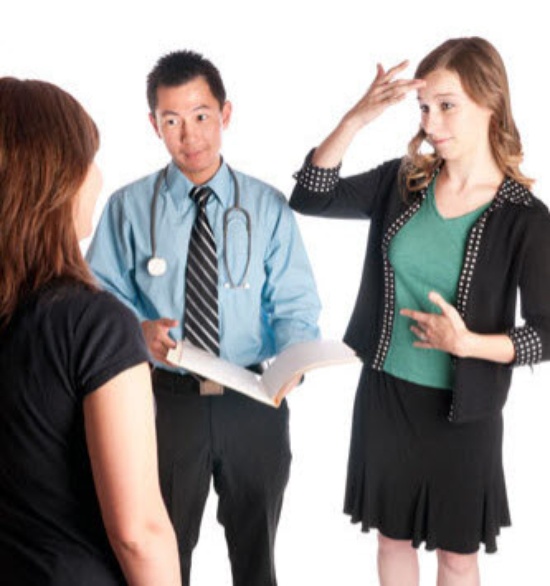 By now, the entire world knows of the too-crazy-to-be-true interpreting agency which foisted the #fakeinterpreter Thamsaqua Jantjie onto the world stage. South Africa Interpreters is every interpreter's cautionary tale: A perfect example of how NOT to run your interpreting agency.
Now that the dialogue has already begun, this is the perfect opportunity to illuminate the realities of how interpreters and their agencies operate. Businesses and service providers, do you know how to promptly set the hiring wheels in motion once you get a request for a sign language interpreter(s)?
1. Start the hiring process as early as possible – two weeks in advance
Requesting an interpreter is nothing like walking into a restaurant with the expectation of immediate service. Au contraire: Many professional interpreters are booked anywhere from 3 weeks to even three months in advance. This is why two weeks advance notice is the universally accepted guideline for most service providers.
2. Be Flexible: Know the exceptions to the 2-week rule
But in the real world, two weeks isn't always realistic. With so many interesting events and activities popping up on our radar at the last minute, one of the challenges of being deaf, hard-of-hearing, or deaf-blind, is planning ahead.
Know the different variations to the rule. Some college disability services offices may recommend that students request interpreter services for classes a minimum of 6 weeks prior to the start of each semester. If you are already an enrolled student who wants to attend campus-wide events, then the two week rule holds.
Disability services offices generally take non-emergency requests during standard business hours. But many interpreting agencies have a system set up in place for last-minute, hospital or police emergencies, as well as some holiday requests.
3. There is no "I" in TEAM: Ensure that interpreters aren't solo
Sign language interpreting can be a very physically and mentally taxing job. Think: Long hours on one's feet, constant moving of the hands, coupled with interpreting of one language to another on the fly.
According to the social media backlash against Nelson Mandela's funeral interpreter, one of the first red flags wasn't that Jantjie made nonsense gesticulations. It's that he made such gesticulations for nearly four hours straight. A bona fide interpreting agency (at least by U.S. standards) would never condone dispatching a solo interpreter "on the hot-seat" for so long, without a team.
There are two situations for which one interpreter may be utilized. Note that an example of a "natural break" is when the consumer works independently at times:
1. Less than 1.5 hours, with no natural breaks
2. Two hours or less, with natural breaks
For any job exceeding two hours with neither natural nor planned breaks, two interpreters must be booked. Also, unique needs like deaf-blind, court interpreting and requesting a Certified Deaf Interpreter (CDI) may also require more than one interpreter. The same principle applies to assignments with concurrent sessions, a large audience or multiple consumers with varying communication needs.
Bottom line: If an interpreting agency does not send you two interpreter names for a +1.5 hour job, that's your first red flag that it's not up to snuff.
4. Qualifications, Qualifications, Qualifications
Nowhere has the controversy over the #fakeinterpreter been greater than in the area of what exactly makes a sign language interpreter "qualified." The requirements have been climbing every year: As of last year, a Bachelor's degree is the minimal educational requirement for all certified sign language interpreters in the United States. While you may not be able to access interpreter resumes directly, the Registry of Interpreters for the Deaf (RID) has compiled a list encompassing the names of ALL nationally certified interpreters which anyone can access on their website. It is also a good idea to solicit the interpreter directly for their RID membership card. The card will list the person's name along with their current certifications.
No two sign language interpreters are created (or trained) equally. For example, some gain their fluency as children due to their association with deaf adults (CODA - Child of Deaf Adults), while others learn later in life in post-secondary education. Nevertheless, it's important to insist on certifications that are recognized by the Registry of Interpreters for the Deaf (RID), ranging from the older, but still professionally accepted certifications like the CSC - Comprehensive Skills Certificate - or the newer and current test, the NIC - National Interpreter Certification. An RID certified interpreter should be adequate to interpret in most settings, but will use discretion in deciding on whether or not to accept specific jobs. There is however one exception to this rule: legal situations require a more advanced certificate, the SC:L - Specialist Certificate: Legal. Interpreters with an EIPA - Educational Interpreter Performance Assessment are not certified, though many states will allow these interpreters to interpret only in a K-12 setting if they meet a minimum standard.
5. Ask: Who is the customer's preferred interpreter (if any)?
There are several reasons why a customer may be the best person to ask about their preferred interpreter. As consumers who use interpreters frequently, they become very familiar with the interpreting community and their range of skill, comfort and trust. Without violating the Code of Professional Conduct or confidentiality guidelines, many interpreters interact with deaf clients outside of their work lives. Aside from developing these personal/professional networks, some customers may prefer a specific signing style, such as Signed Exact English, Pidgin Signed English or American Sign Language. Lastly, clients may prefer a specific gender for medical or personal reasons. If the request is submitted far enough in advance, it is in everyone's best interest to honor it.
6. Let's Talk Money – Interpreting fees
One of the many lessons to come from the SA Interpreters fiasco is how to properly pay your interpreter(s). The standard fee for an interpreter in South Africa is reported 1,300 to 1,700 rand (£76-£100) a day, but Jantjie was only receiving 800 rand a day for his "services".
The saying "you get what you pay for" is true for interpreters. Here's the lowdown on properly compensating sign language terps: Typically, under the Americans with Disability Act (ADA), businesses are required to foot the bill for making their business accessible to disabled individuals. You can reasonably expect interpreter fees to range from $30 - $100/hour per interpreter, depending on the type of job and skill of the interpreter. Also note that a two-hour billing minimum is common to justify interpreters' travel time and expenses.
7. Freelance or Agency Interpreter? Know the difference
While most hiring is usually done by approaching an interpreting agency directly, be aware that there are many excellent, highly qualified interpreters who work independently of an agency. One benefit to hiring freelancers is budgetary: You may be able to negotiate rates. For example, if your service is a dance class you might discover that a hip-hop-minded freelance interpreter is willing to provide a discount to get first dibs on the assignment. An agency may be slightly more expensive, but may be a better option if you are too busy to coordinate scheduling, fees, and rate negotiations.
Bottom line: Ask the deaf person if they can recommend an interpreter or interpreting agency.
8. Etiquette – Interpreter's are professionals
After a few hours on an assignment, it can be too easy to mistake a friendly interpreter as the client's "buddy." Remember that you've hired a professional who must adhere to a Professional Code of Conduct. That means don't offer the interpreter free drinks (an interpreter must stay sober on the job), don't ask an interpreter to do small tasks like hand out classroom papers and don't use the interpreter as a "stage prop" during appointments or entertainment events.
9. Talk to the client – not the interpreter
This is one of the hardest guidelines you will ever have to remember: Look directly at your client and refrain from using phrases like "tell her I said" or "what does she need?". If you master this now, you will win trust and goodwill forever. Another tip for communication flow: Be careful with all "thinking out loud" utterances, and do your best to speak clearly and at a medium-clip pace. Interpreters are not super-human translation devices, and are required to interrupt if what you have said is unclear.
Also, interpreters do not "edit" or "crop out" minutiae – which means small talk and pre-meeting gossip is going to be delivered to the deaf client with flying hands!
10. Create a deaf-friendly (and interpreter-friendly) environment
Not all interpreters stand beside the speaker on a platform, a la Lydia Callis. Many seasoned interpreters will tell you of the many interesting places their career has taken them to: Underwater for scuba diving classes, ballroom dance floors, next to hospital birthing tubs, and more. Whatever the situation, it is critical that the deaf person can see both you (speaker) and the interpreter. Take a few minutes to design your environment beforehand. Good lighting and adequate sign space is also important!
If all else fails – call your local Sign Language Interpreting Agency (not your general language agency). Follow up with the customer and ask if they were satisfied with the interpreter. This will tell you a lot about the interpreter and the agency for future work you hire them for.
.
* Special thanks to CLIP Interpreting of San Diego, CA for their help with this article.
Tags
Comment Policy
We're aware that issues facing the Deaf, Deaf-Blind, and Hard of Hearing Community can become quite passionate and divided. What can we say, we're a group of passionate people! While we fully support a community full of passion, we also require that comments are respectful. We think negative attitudes and disrespect are a waste of everyone's time and energy. This doesn't mean you can't disagree with people, you just need to do it respectfully. We reserve the right to delete or edit any comments we feel are judgmental, rude, or of attacking nature.
Reviews by Advocates & Champions